ATTENTION: CALL NOW 321-710-3530
Educational Institutions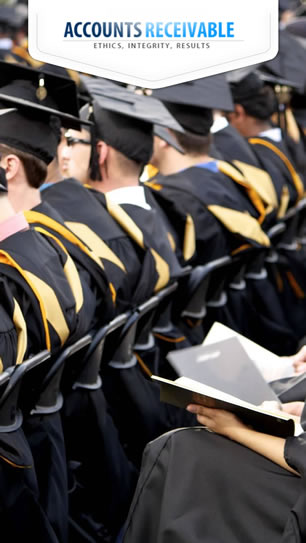 The education industry is no stranger to past due accounts, with a number of fees and fines being charged by colleges and universities, public school districts, and even private schools.
These fees are often a key part of any educational institution's budget, and a large number of outstanding balances can severely damage the institution's ability to fund classes, activities, and even scholarships. Our goal at Accounts Receivable is to help these institutions recover outstanding debts in an effort to maintain their fiscal integrity throughout the year. We help collect the following debts:
By choosing Accounts Receivable, our educational clients get access to a few key services and methods:
Our collection agents have extensive experience in the area of educational collections, and they dedicate themselves to a reasonable and amicable approach from start to finish. This approach helps the educational institution maintain strong student relationships, even while collecting a debt on the institution's own terms. Best of all, our unique approach to collection keeps students in the university's purview and ensures that they're ready to pay off their debts, return to class, and succeed in their endeavors.
Accounts Receivable counts itself as one of the most effective collection operations for the educational industry because we produce real results that benefit both the institution and the student. With clear lines of communication, both via telephone and written correspondence, and an amicable approach that focuses on maintaining relationships, we achieve real results very quickly.
To maintain a strong fiscal position and recover outstanding student balances, educational institutions have no better choice than the combination of experience, communication, and success, enjoyed by Accounts Receivable.
To get started today, call 321-710-3530 to speak with an associate or fill out the form below.
Copyright © 2019 - Accounts Receivable - All Rights Reserved
Phone : 321-710-3530 | Email : info@accountsreceivable.com