ATTENTION: CALL NOW 321-710-3530
Government Collections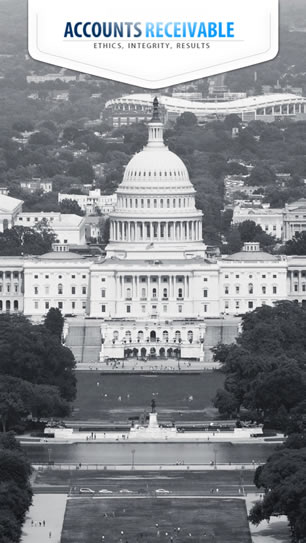 We live in an era of increasingly tight government budgets, even as an economically wary society asks government to perform more services within tighter budgetary constrictions.
In this kind of climate, there is simply no room for past due obligations to remain outstanding while other citizens — those who have no such debt — desperately need the assistance of a well-funded local government. Accounts Receivable understands this quite well.
Because we understand how important every dollar is to local governments everywhere, we consider it one of our highest priorities to ensure that every outstanding debt owed to a government office is repaid in full. In times like these, it is simply not acceptable to let this valuable money be written off, causing others to suffer.
While most of our government collections experience involves debts incurred for services rendered, we're also experienced in collecting past due student loans owed to state and local governments. These loans represent a significant financial burden on those agencies that have issued them and, without consistent and timely payment, they can easily become a drag on budgets.
By choosing Accounts Receivable to collect these and other debts, clients get access to a few great attributes and procedures:
By choosing Accounts Receivable, our government clients get access to a few key services and methods:
A focus on amicable collection that maintains good relationships between the government agency and its constituents
A fair approach to collection that seeks to understand a debtor's situation, rather than intimidate and pressure them into payment
Our well-rounded approach to government collections will ensure that budgets can remain as flexible as possible, while governments are able to provide services and support for the most vulnerable members of the surrounding community.
To get started today, call 321-710-3530 to speak with an associate or fill out the form below.
Copyright © 2019 - Accounts Receivable - All Rights Reserved
Phone : 321-710-3530 | Email : info@accountsreceivable.com