ATTENTION: Accounts Receivable is HIPPA compliant so your patient information is safe with us
Medical Collections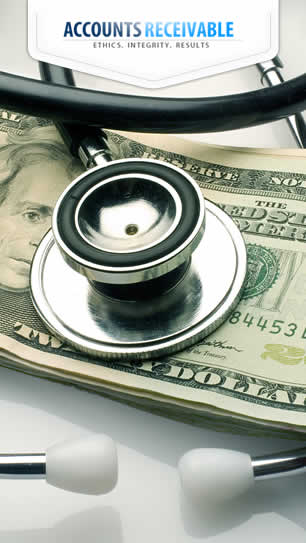 Medical debts are one of the largest segments of debt in the United States, with consumers owing significant sums to family practice clinics, dentists, chiropractors, hospitals, optometrists, and more.
At Accounts Receivable, we help our medical clients pursue collection of these debts in a way that is professional, timely, and amicable, ensuring that both our medical clients and the debtor have a way to fairly and amicably settle any outstanding amount owed.
Beyond merely helping to collect a medical debt, Accounts Receivable stays on top of the latest developments in medical billing and accounts. The industry is undergoing a significant amount of changes and we ensure that our procedures stay within new regulations as they're implemented. We're a modern, fast-moving company, and that helps us to keep ahead of the quick modernization of medical accounts and collection.
By choosing Accounts Receivable, our medical clients get access to a few key services and methods:
The key to an effective and amicable collection is a combination of great service, excellent communication, and flexible terms. At Accounts Receivable, our medical collections practice focuses on all three of those building blocks.
To get started today, call 321-710-3530 to speak with an associate or fill out the form below.
Copyright © 2019 - Accounts Receivable - All Rights Reserved
Phone : 321-710-3530 | Email : info@accountsreceivable.com