ATTENTION: CALL NOW 321-710-3530
Retail & Service Collections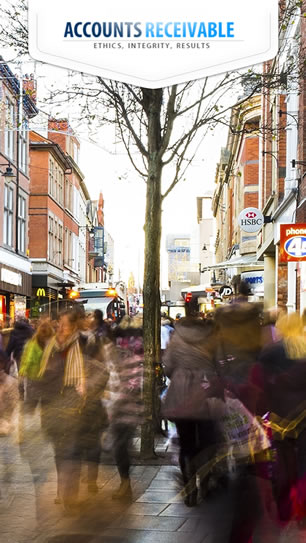 One of the best ways to gain new customers is to offer them an extension of credit in order to complete a timely repair or provide them with a great service. Most consumers are grateful for this extension of credit, and the inherent trust that comes with it.
Tough financial times, however, can cause some consumers to simply be unable to pay their bills. Over time, accounts that are significantly past due can become a burden on the service provider, causing a real and noticeable financial drain.
This is where the services of Accounts Receivable can help quite a bit. Our retail and service collections department is experienced and highly efficient. Our professional collection agents can help to rebuild consumer relationships and ensure that consumers are able to quickly and flexibly pay any debts owed to professionals like plumbers, electricians, mechanics, retail stores, restaurants, and even computer repair shops.
The key to our approach is to provide a simple and open method of communication with consumers who have fallen behind on their payments. We understand that this can happen to virtually anyone, and we know how hard it can be to overcome financial struggles. This understanding helps us pursue an effective and amicable collection process that produces very real results for our retail and service clients.
Clients who choose Accounts Receivable will benefit in several ways:
By choosing Accounts Receivable, our retail & service clients get access to a few key services and methods:
We look forward to working with our clients in the retail and service industries, and bringing our unique understanding of the collection industry to the rescue.
To get started today, call 321-710-3530 to speak with an associate or fill out the form below.
Copyright © 2019 - Accounts Receivable - All Rights Reserved
Phone : 321-710-3530 | Email : info@accountsreceivable.com