Companies lose an untold amount of money each year, harming their bottom line. This problem is an inconvenience for large companies and major corporations, but it can be devastating for small businesses.
With a quick search, anyone can see that collection agencies are found in abundance. But when it comes to the future and reputation of any business, finding the right collection company is vital. AccountsReceivable.com has comprised a list of factors to consider when hiring a collection agency.
Speed of Implementation
Eager to gain payment for unpaid accounts, many business owners will turn to the first collection agency that they can find. which is a pitfall that can make the problem even worse. Sadly. not all collection agencies can get the job done efficiently. If the process takes too long, the unpaid accounts can move past the statute of limitations making them uncollectible. To learn more about the statute of limitations in all 50 states go to AccountsReceivable.com.
Professionalism
Collection agencies act as representatives for the businesses that hire them, and an unprofessional agency can destroy the reputation of any company. Business owners need to know that the people they trust to collect funds will do so with a high level of professionalism.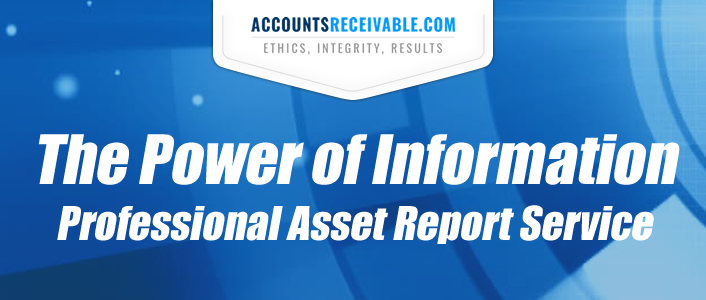 Legal Compliance
Many complex laws regulate how companies can collect, manage and transfer unpaid accounts. If a collection agency willfully breaks or does not understand these laws, it will create a liability for the company trying to collect When businesses want to know that they are in good hands. they turn to collection agencies that have the training, experience, and education to complete the task while remaining compliant with the law. To learn more about how these laws affect creditors lick here AccountsReceivable.com.
Results
All of the other factors are meaningless unless a collection agency can deliver consistent results. When it comes to choosing a collection agency that won't let you down, moving forward without looking at its past is an expensive error. No matter the industry, a reliable collection agency will have a respectable success rate that provides clients with peace of mind. Once a business opts for the services of a dependable team, it will have the best possible odds of receiving their funds.
Transparency
When choosing a collection agency, companies should be looking for a company with transparent reporting methods that are easily accessible. Any agency being considered should have a platform that clients can access 24/7 that reflects payments received.
National Legal Team
An effective collection agency will work with a team of law firms that can enforce creditors rights. When a debtor remains defiant and unwilling to address the debt, an efficient collection agency will assign the account to one of their affiliate attorneys to litigate the claim, often at a reduced fee. These law firms will be able to handle the case for the creditor from inception to fruition.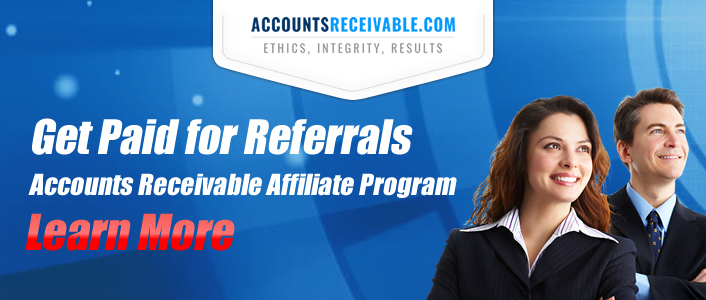 Why Accounts Receivable?
When a business wants to settle unpaid accounts. it must choose a collection agency wisely so that it can avoid problems along the way. Account Receivable (AccountsReceivable.Com) has the experience and skill to accomplish the job.
Upon receipt of a collection file Accounts Receivable immediately proceeds with collection attempts to ensure that the necessary collection tactics are immediately implemented to ensure a swift recovery. The average collection made by Accounts Receivable occurs within 30 days of initial placement.
Accounts Receivable trains all members of its staff to engage in the utmost levels of professionalism. The motto at Accounts Receivable is Ethics, Integrity, Results and these values are part of all factors of our operations.
As a reputable collection agency, Accounts Receivable adheres to the FDCPA, FCRA, TCPA and is HIPPA compliant. Our agents undergo daily compliance training and we have a zero-tolerance policy for failing to comply with federal and state regulations.
Accounts Receivable is a No Recovery No Fee collection agency, meaning that we only charge a fee when we collect. Our existence and livelihood are dependent upon our ability to produce results for our clients. With millions collected for clients annually, Accounts Receivable has the skill and ability to address any collection situation that may arise.
Companies that become a client of Accounts Receivable are provided a username and password to an online system where clients can manage their portfolio of accounts, view activity, submit additional accounts and access a database of resources and services. Our goal is to ensure that our clients are kept in the loop and make transparency one of our highest priorities.
Through our network of Nationwide attorneys and worldwide legal professionals, Accounts Receivable can handle any collection case through litigation if necessary. While it is our goal to resolve accounts without litigation, our ability to reach any debtor in any jurisdiction leaves no company out of our crosshairs.
While there are many collection agencies out there, there are very few that have all of the characteristics that Accounts Receivable exhibits on a daily basis. If you have delinquent accounts that you have considered hiring a collection agency on, contact our office at (321) 233-5512 or fill out the form below to speak with a collection consultant immediately.